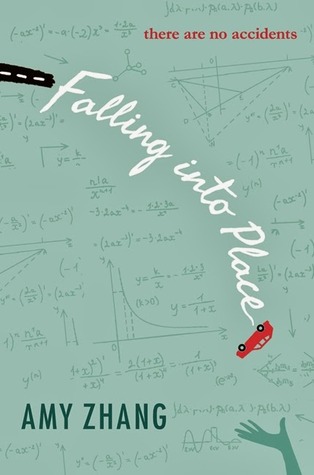 Release Date:

September 9, 2014
Publisher: Greenwillow Books
Pages: 304
Source: eARC for Review
ISBN-10: 0062367889
Rating: 4 Hearts
Book Description
"On the day Liz Emerson tries to die, they had reviewed Newton's laws of motion in physics class. Then, after school, she put them into practice by running her Mercedes off the road.
Why? Why did Liz Emerson decide that the world would be better off without her? Why did she give up? Vividly told by an unexpected and surprising narrator, this heartbreaking and nonlinear novel pieces together the short and devastating life of Meridian High's most popular junior girl. Mass, acceleration, momentum, force—Liz didn't understand it in physics, and even as her Mercedes hurtles toward the tree, she doesn't understand it now. How do we impact one another? How do our actions reverberate? What does it mean to be a friend? To love someone? To be a daughter? Or a mother? Is life truly more than cause and effect? Amy Zhang's haunting and universal story will appeal to fans of Lauren Oliver, Gayle Forman, and Jay Asher."
Review
Short and Sweet:
I think that Falling Into Place is a really beautiful book. I loved reading it and would definitely recommend it, but it wasn't my favorite.
To Elaborate...
Liv Emerson seems to have it all, a hot on-again/off-again boyfriend, loyal best friends, popularity, and a mean-girl attitude that demands respect. But no one knows what's going on in her head, what causes her to drive her car off the road on purpose. As she lays in the hospital, bits and pieces of her life are revealed to show how she got there and why.
The writing in this is stunningly beautiful. It looks at some very serious and dark concepts, but has strong glimmers of hope throughout. The best friends, Kennie and Julia, each have their own unique problems that they struggle with (that Liv might have encouraged), but they are completely loyal. I especially enjoyed Liam, Liv's quiet admirer, who saw how she really felt.
Even though I loved so many aspects of Falling Into Place, I still felt like I was waiting on something more to happen. I thought a big twist might show up around a few corners, or some different scenes would be looked at that would take the story up to a new level. The lack of this suspected twist didn't necessarily disappoint me, but it was kind of like, "Oh...ok...that's it....alright" by the time I finished.
I still think Falling Into Place is a great story, and it is a good read for anyone who enjoyed Before I Fall by Lauren Oliver.
And don't miss out on our current giveaways!
Win an August YA New Release! INT!
Clear Your Shelf Giveaway Hop! 2 Winners! 4 books each! US ONLY!